Target 9.a: Sustainable and resilient infrastructure
Facilitate sustainable and resilient infrastructure development in developing countries through enhanced financial, technological and technical support to African countries, least developed countries, landlocked developing countries and small island developing States.
There is a general consensus on the important contribution of infrastructure The system of public works in a country, State or region, including roads, utility lines and public buildings.
more to economic growth and development (Foster and Briceño-Garmendia, 2010). Better infrastructure reduces transaction costs, makes capital goods more durable and facilitates trade and investment. Solid infrastructure creates more business opportunities and boosts private entrepreneurship. Investment in regional transport systems and communications is also crucial for the facilitation of economic integration, the development of markets, and the promotion of intraregional trade. The World Bank (2016a) estimates that poor infrastructure depressed firm productivity by around 40 per cent in low-income African countries and improved infrastructure explains for more than half of recent growth in sub-Saharan Africa and still has a higher potential (Foster and Briceño-Garmendia, 2010). For this reason, IAEG-SDG has selected Total official international support (official development assistance plus other official flows) to infrastructure as the indicator for this target.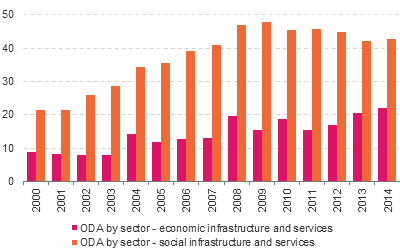 Figure 9.13 shows the total ODA spent on infrastructure, both social and economic. In 2014, these two categories combined accounted for roughly US$65 billion or 44 per cent of total net ODA. Spending on social infrastructureAs there is no universally agreed definition, it is sometimes referred to as social or intangible capital. It has been variously defined as the networks, together with shared norms, values, and understandings which facilitate cooperation (OECD) or the degree of trust in a society and the ability of people to work together for common purposes (World Bank).
more has accounted for between three quarters and two thirds of this spending. The relative importance of spending on economic infrastructureEconomic infrastructure or basic economic infrastructure is physical forms of capital investments in land used for production and habitation.
more has increased since 2013.
In 2014, net ODA to Africa was almost US$60 billion, accounting for almost 34 per cent of total net ODA to developing countries. Of this over US$48 billion dollars went to sub-Saharan countries; almost US$52 billion to LDCsThis category was officially established in 1971 by the United Nations General Assembly with a view to attracting special international support for the most vulnerable and disadvantaged members of the United Nations family. Their low level of socioeconomic development is characterized by weak human and institutional capacities, low and unequally distributed income and scarcity of domestic financial resources.
more.
In recent years, bilateral Development Assistance Committee aid to LDCs has targeted social infrastructure (over 42 per cent of aid to LDCs for the years 2010–2014). This was done partly to achieve the Millennium Development Goals. Most of the ODA for social infrastructure was given in the form of grants9.11. In contrast, relatively low grant ratios were given for economic infrastructure, 63 per cent to LDCs and only 38 per cent for Africa as a whole9.12 (OECD, 2016) (see figures 9.14 and 9.15). Economies of scale apply to infrastructural development. The per-capita fixed costs of infrastructure provision decrease with increase of population density9.13. In addition, infrastructure services in Africa are expensive9.14 due to lack of competition (Foster and Briceño-Garmendia, 2010).
Africa's most serious infrastructural deficit exists in the power sector. Power outages are frequently cited as a common problem9.15, accounting for 6 per cent of losses in revenues and damaged equipment (World Bank, 2016b; African Development Bank Group, 2016).
In 2013, Africa's electricity generation was 723 terawatt hourUnit of energy measurement: 1 TWh = 1,000 GWh = 1,000,000 MWh = 1,000,000,000 kWh.
more (TWh); while Africa's population represented 15.6 per cent of the world total, its share of total world electricity generation was only 3.1 per cent (figure 9.16). Access to electricity is very limited in rural areas. Only 11 per cent of rural populations in sub-Saharan Africa had access to electricity in 2014, compared to 72 per cent in urban areas9.16. Demand for power in Africa is expected to exceed 3,100 TWh by 20409.17, more than four times current capacity. To meet this demand, Africa will need to increase installed power generation capacity by a factor of five compared with 2012 levels (Economic Commission for Africa (ECA) and African Union, 2012a).
Transport systems and information and communications technology (ICT) are other elements of economic infrastructure that countries in Africa need to improve to enhance their productivity. Provision of better transport network coverage (air, land – both road and rail - and water) will not only reduce costs, but will integrate economies into regional and world markets. An assumption of more than six per cent annual GDP growth in Africa between 2010 and 2040 underpins the United Nations Economic Commission for Africa and the African Union joint Programme of Infrastructure Development. Based on this, Africa's transport volume is expected to increase by six to eight times by 2040 compared with current levels (ECA and African Union, 2012a).
Transport infrastructure can be measured not only by network coverage but also by quality. For instance, Volume of sealed or paved road networks is one of the available indicators that can be used to estimate the quality of surface connectivity9.18. The most recent AFRO Barometer results9.19 reported that only 38 per cent of roads were tarred or paved in rural areas, compared to 76 per cent in urban areas (AFRO Barometer, 2016).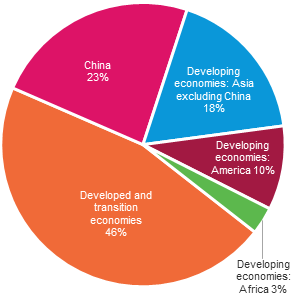 Unlike transport systems, ICT has already made a substantial contribution to productivity in Africa (World Bank, 2006; OECD, 2015b). Rural areas are better connected virtually than physically, at least with mobile cell phones. In 2014, mobile cellular subscription rates in sub-Saharan Africa were 71 per 100 inhabitants, while Internet usage lagged behind at 19 per 100 persons (see targets 5.b and 17.19). When measured in terms of the services available, 89 per cent of rural areas and 99 per cent of urban areas surveyed had mobile phone service (AFRO Barometer, 2016). Although demand for broadband is expected to grow much faster and earlier than for other services9.20, Africa will need an improved fibre infrastructure both in quantity and quality if this demand is to be met. International connectivity is another bottleneck due to lack of competition among providers (International Telecommunication Union (ITU), 2014). With regard to social infrastructure, an urban–rural gap still persists. Only 56 per cent of rural households in sub-Saharan Africa had access to clean water and 23 per cent had access to good quality sanitation in 2015, compared with 87 and 40 per cent in urban areas, respectively (see Goal 6). A very strong demand for water will likely cause environmental damage to several river basins, including those of the Niger, Nile, Orange and Volta (ECA and African Union, 2012b) (see Goal 15).
For the years 2006 to 2015, the World Bank estimated that Africa needed approximately US$93 billion a year to improve its infrastructure, of which two thirds (US$62 billion) was needed for capital expenditures and the remainder for maintenance of existing facilities. This amount was equivalent to 15 per cent of Africa's total GDP, 25 per cent of GDP for low-income non-fragile States and 36 per cent for fragile StatesFragile States are low-income countries that face particularly severe development challenges, such as weak governance, limited administrative capacity, violence, or the legacy of conflict.
more (Foster and Briceño-Garmendia, 2010).
According to the most recent data, total funding available for capital infrastructure development9.21 in 2014 was US$74.5 billion, a reduction of 25 per cent on the previous year (Infrastructure Consortium for Africa, 2014). Several factors contributed to the fall: China readjusted its African infrastructure financing; the 2013 figure included an exceptional commitment of the United States of America of US$7 billion; transport infrastructure financing was reduced; and there was more rigorous national government reporting on budgets (Infrastructure Consortium for Africa, 2014).
In 2014, only the governments of Angola, Côte d'Ivoire, Gabon, Mauritania and Togo spent more than 5 per cent of GDP on capital infrastructure expenditures. Another twelve African countries9.22 allocated more than 2 per cent of GDP to capital infrastructure, while the Democratic Republic of the Congo, Guinea, Liberia and Mauritius all spent less than 0.1 per cent of their GDP. It is noteworthy that some African governments have recently entered into new forms of financing, for instance, issuances of sovereign bonds9.23, subnational government bonds (Nigeria) or internally generated budget funds (South Africa) (Infrastructure Consortium for Africa, 2014).